Steps for creating cases using pre-designed templates
PLEASE do not use the Blank Case template.  Use the Templates you built to use for creating your promotion cases.
Contact Audrey Bribiescas for assistance with using templates and creating cases. Interfolio has been upgraded with some new enhancements and we are in the process of updating our pages.  Thank you. 

Creating cases using the available templates
Log in via the link, https://account.interfolio.com/sso
Click, Case List 
Click, + ADD Case
Click, Select Unit 
Click, Confirm 
Scroll, Select the appropriate and specially designed template (Do NOT use the Blank Case)
Example:  Select the template by clicking on the title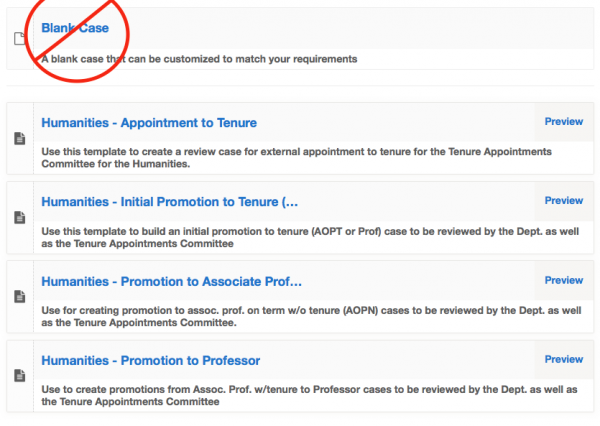 Next, follow Steps:
Candidate Information-
Enter the appropriate information in the fields: 
Candidate's Name, 

Candidate's Email, 

Select Yes or No to the question - Will the Candidate Submit a Packet?  (NOTE: as stated this cannot be changed once submitted.  Yes, means the candidate will upload their own materials. No, means the packet materials will need to be uploaded on the candidate's behalf.  Contact OFAS if you need assistance.)

Candidate's Packet Due date
Next item is the instructions to the candidate.
Review and edit the Instructions to the Candidate. Be sure it has the appropriate template letter for your area as well as for the rank, example, Letter of Request to Candidate for Promotion to Associate Professor on Term (without tenure):
o   Humanities;
o   Biological Sciences,
o   Physical Sciences, and Engineering;
o   Social Sciences
Make all the necessary modification to this letter per each case so that it has the correct candidate's name and matches your department information.
Click, Save & Continue button
Candidate's Packet Requirements-
Review, the Requirements - these should match what is in the  Letter of Request to Candidate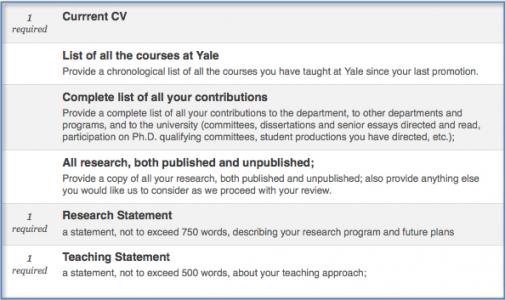 Additional information – Note: We placed this requirement within the Published Research category and not as a separate line item.  This way will allow the faculty member flexibility to upload additional information into a section if needed.
This list of requirements is in the Letter of Request to Candidate or in the Steps for promotion, both documents are located on the OFAS website. (NOTE: Do not add a requirement for the 3-4 names of leading scholars for consideration. This needs to be done outside of this system for now.)
Click, Save & Continue button
Case Review Steps-
These steps have been pre-defined in your templates. The one step you'll need to update and replace with the correct committee, is the FAS Dean - Vote Results.  
Replace, the placeholder committee with correct matching FAS Dean (Dept Vote -Yes) or FAS Dean (Dept Vote - No).  

Delete, the placeholder committee once the correct on is place.   
These committee review steps are in a pre-designed order to help you move the case forward and to follow along the steps for promotion process.  
Click, Save & Continue button
Notify Candidate
After creating the case, you will be returned to a window summarizing the case details.  Review the case one more time.  At this point, if you selected the option to notify the candidate so she or he can upload her/his documents, click the Notify Candidate button.  If not, click  "Send Forward" to advance the case to the next step which should be you - Dept Chair and Chair's Assist.  
Managing your Committees
It is best to create the list of Standing Committees  for your department first.  This way each committee will be available in the drop down list when you need to add the appropriate committee to the case review steps.
Log in via the link, https://account.interfolio.com/sso  (Note: Chrome is the browsers of choice.)
Click, Administration, under the Promotion & Tenure section.
Click, User & Group Managment.
Click, Committees.
Click, Add Committee, orange button on the pop-up window. (See the Interfolio's Support for screen shots)
Add a committee for each of the following groups for your department/school:
o   Dept Chair/Dean  and Chair's Assist/Dean's Assist (Dept/School name) - Department/School name may be abbreviated.  [e.g. Dept. Chair and Chair's Assistant (MCDB) or Dean and Dean's Assistant (SOM)]
o   Departmental Review Committee (Dept/School name) – The members for this committee are usually ad hoc and will be added at the case level (temporary) for each case that is created. These groups are referred to as Case Specific committees.
Eligible departmental faculty for voting committees – Note: the members in these lists will need to be maintained as faculty get promoted, appointed, or leave Yale.
o   All faculty (Dept/School Name) – Includes all Assistant Professors, Associate Professors (both term and tenure), and Professors.
o   All Associate Professors and Professors (Dept/School Name) – Includes all Associate Professors (both term and tenure) and Professors.
o   Tenured faculty (Dept/School Name) – Includes all Associate Professors with tenure and Professors.
o   Full Professors (Dept/School Name) – Only includes full Professors. 
As noted above, these groups referred as a Standing Committees, will need to be maintained to be sure they are ready each year and for each case.  Add committee members to each group except for the Faculty Review Committee. For this committee members are added case specifically (temporary).