Interfolio - Requesting external evaluations for a case 
After the list of referees have been approved by your dean's or provost's office, then requests to solicits letters can be sent via Interfolio.  Contact your dean's office  or faculty affairs office for more information and proper procedures. Below are the steps.
Open the case by clicking on the name of the candidate from the list of Cases. 

Click on the words - "Request Evaluation" on the External Evaluation section line.

The Request Evaluation window will open.  Take note of the,  "+ Add Another Evaluator" under the First Name field. This is to send more than one request at the same time. 

Enter the correct information for each field, (i.e. Evaluator First Name, Evaluator Last Name and Evaluator Email.)

Next, enter the Subject and then the Message.  If you are requesting evaluations from more than one person, look at the bottom right of this window to see how to use the variables to automatically fill in the first and last name of each evaluator receiving the message. (e.g. Dear Professor %EV_Last%,). If you do not see this information be sure you have added at least two evaluators by using the "+ Add Another Evaluator".

Be sure to click, "+ Add"  just below the message box.  This is to add files with this request so each evaluator will have the set of materials to review.  

If a deadline date is used, it will be a hard stop;  meaning when the date arrives, evaluators will  be unable to submit the their letter; extend the date prior to avoid this from happening.

Also use the Preview button at the bottm to review the letter. 
As a reminder, per University policy, via the Faculty Handbook, these letters are confidential and therefore their content may not be shared with the person being evalutated.  This is why all letters of evaluation need be place in this section, External Evaluation and better yet requested via this link. 
 For additional help, visit Interfolio's site on an Overview of a Manager's Guide.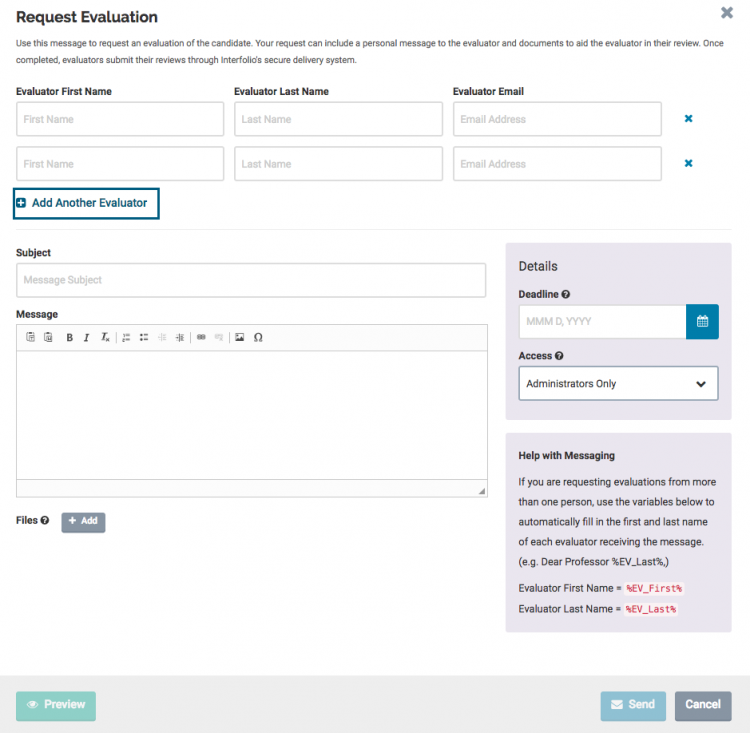 External evaluator - has a question or difficulty uploading their letter?
It is nice if you can help the external evaluator by sending this link for guidance.  Or for ease, have the external evaluator email their letter to you so you can upload it.  The other option would be to direct the person to Intefolio:  help@interfolio.com  (877) 997-8807
Unit administrators: to upload the letter of evaluation, click o the, "+Add File",  function in the External Evaluation section - see the first little screenshot above.    For additional help, visit Interfolio's site on an Overview of a Manager's Guide.